As a new mom, I returned to work in early March. After six months of maternity leave, I was excited to head into the office, reconnect with my peers and clients, and get some much-needed adult conversation. I was ready to jump into my new business pants, but instead jumped back into my pajama pants (no judgements). The circumstances of COVID-19 had pushed many organizations to work remotely, including the staff at Aptitude Digital. To say the workplace has changed drastically in the last several months would be an understatement.
If you're like me, you might be wondering what a post-COVID workplace looks like. Our business norms are continuously being shifted. We adapted to a work remote lifestyle and are now moving back to an office lifestyle. But how do we reconnect with our co-workers after working from home for so long? How can designers help with that connection?
Empathizing With Our Co-workers
Graphic Designers by nature are creative, problem solvers, and connect with the world around them. They can take a challenge and come up with a creative and visually appealing solution. We know the transition from home to office has some people feeling overwhelmed and anxious…so the design team used our skills for good, so to speak.
---
"Design is more than just a few tricks to the eye. It's a few tricks to the brain."
– Neville Brody
---
Finding the Perfect Idea and Medium
I teamed up with Yiming (Amy), Aptitude Digital's designer, to brainstorm some ideas to help bring some fun into the office (Disclaimer: Our bosses and co-workers had no idea what we were doing!). In our expedition for inspiration, we stumbled upon some cute 'adulting' achievement badges. They were like the ones you would receive in Girl Guides or Boy Scouts but for everyday adulting tasks. We immediately connected with this idea as it was cute, quirky, and we were pretty sure it would bring a smile to everyone's face.
However, unlike Girl Guides, we don't carry around sashes displaying our "we got out of bed" badge (though I totally would wear that one with pride). We went through a few ideas on how to display the artwork and we landed on stickers. Who doesn't love stickers?

Brainstorming Creative Artwork and Sayings
The easy part was complete. Now, it was back to the brainstorming board for artwork ideas and sayings. We wanted to embody the idea of the adult achievement badges and the adaptations that came with the COVID-19 pandemic such as:
Not touching our face;
Wearing masks;
Socially distancing from co-workers, and more.
In a world full of uncertainties, it's nice to be recognized for the small things.
Once all the brainstorming and planning was out of the way, I left Amy to do what she does best. Create something beautiful and impactful. And boy did she deliver!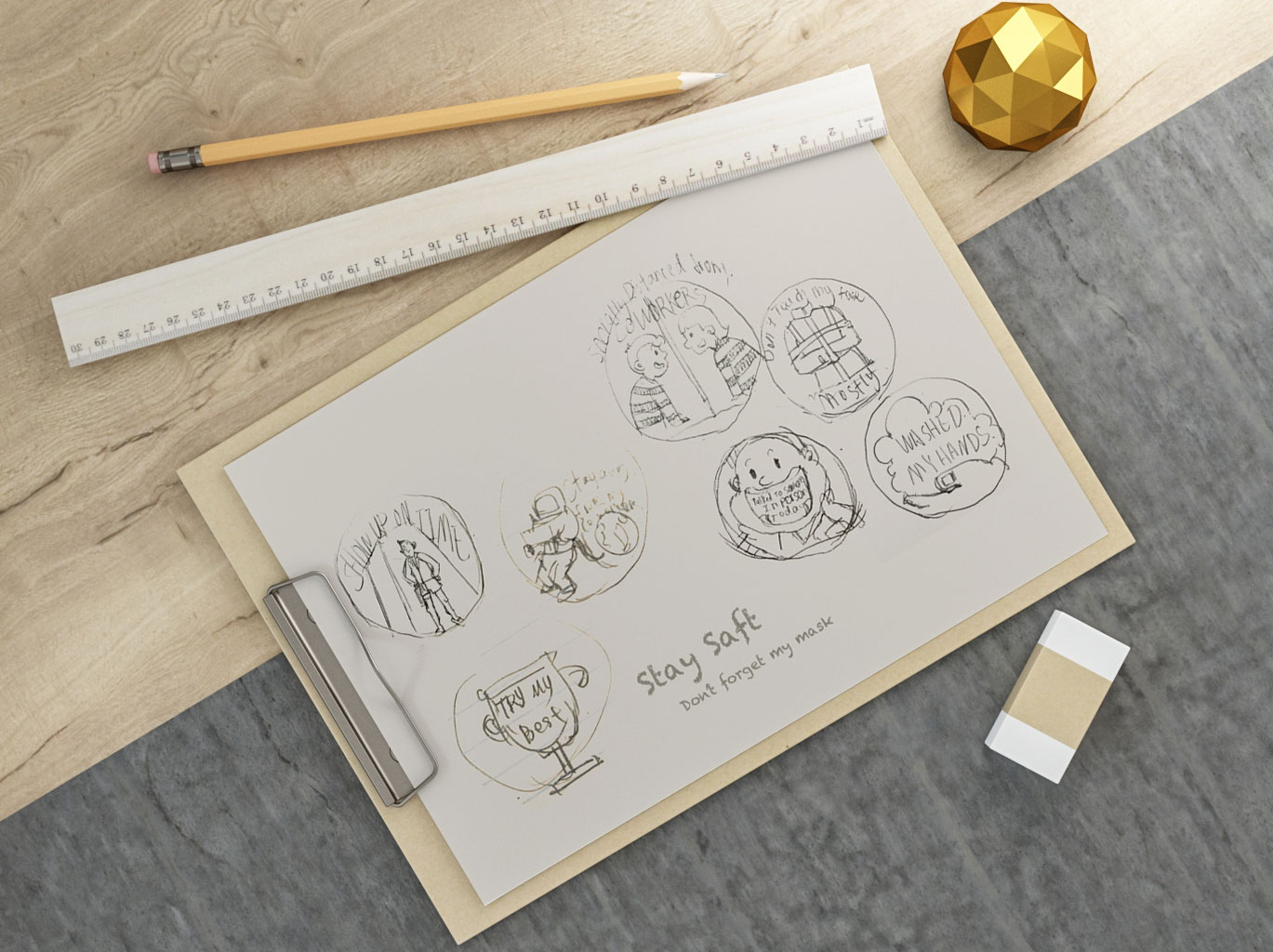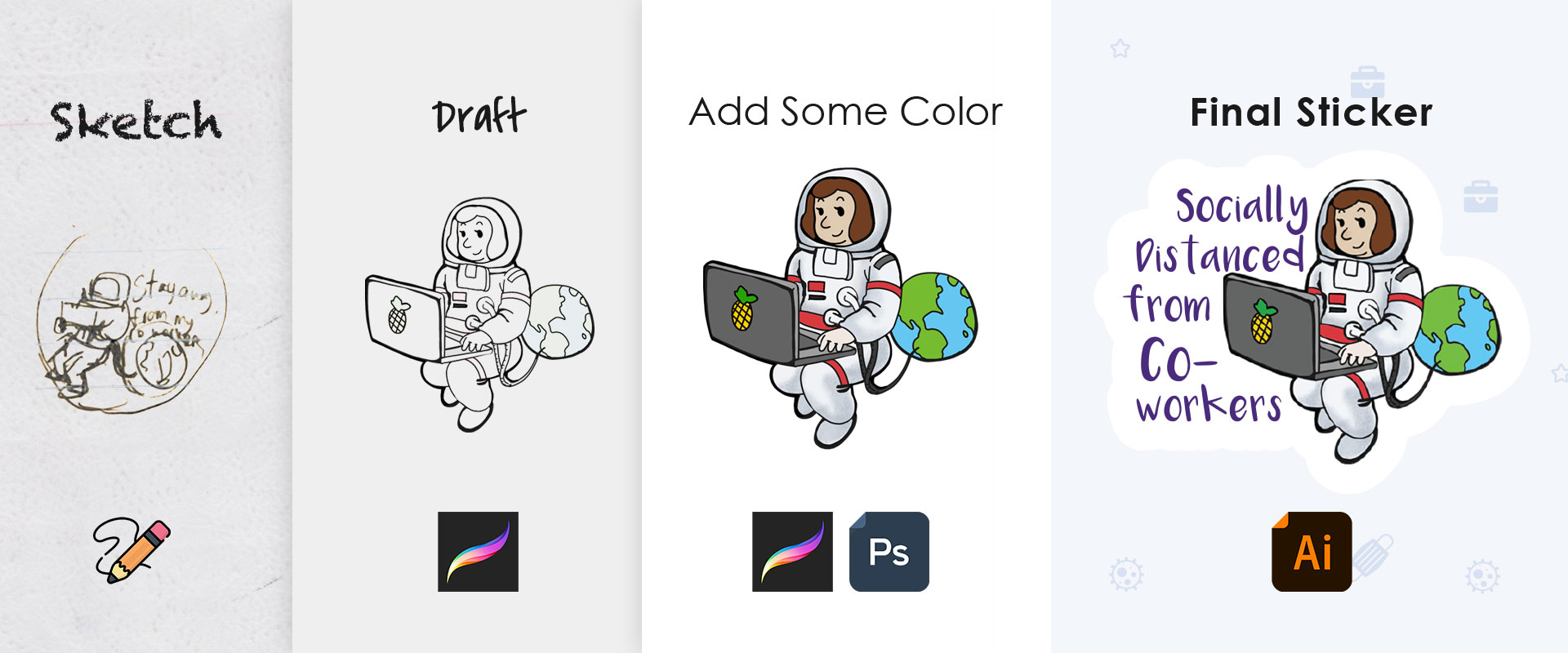 Conclusion
In the end, we felt the best way to showcase the beautiful artwork from Amy was to use custom cut sticker sheets. For this specific project, we used StickerMule.com. Shipping was free within Canada and the price was under $80 for 20 sticker sheets. (StickerMule.com is not a sponsor or affiliated with this post.)
Navigating the murky waters of the back to work lifestyle can be a challenge. We encourage you to use our artwork to make your own stickers, signs, badges or pins. Commend your peers on the small everyday things. We all know how difficult not touching our faces can be.
Let go and get creative. What's the worst that can happen?

Interested in Printing Your Own Stickers?
Stickers are a great way to add a little fun in the office. We've done all the leg work for an effortless print job, all you have to do is download our COVID-19 Sticker Sheet Illustrator File and upload to StickerMule.com.